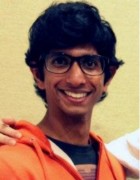 Ajay Govinda Menon
People of Singapore: The Power of Engagement
Ajay is a natural public speaker and hosting enthusiast who aspires to become a professional speaker. What is immediately noticed is his deep baritone voice. With its warm overtures and refreshing brightness, it adds class to every event. Drawing from about 7 years of experience, he is able to anticipate and assist event organisers in planning their events and programmes to maximise crowd engagement.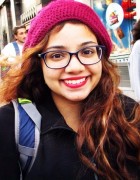 Alisa Maya
Strike the Prose: Fashion, Travel & Special Interest Blogging
Alisa Maya is a writer and a great believer in the power of words. She is an Honours year student at the National University of Singapore, Citizen Reviewer with Centre 42, the former Head of Outreach at Social Enterprise UNSAID and almunus of Burn After Reading Singapore, a local poetry collective. Previously, she was the Creative Desk editor at The Ridge Magazine and a writer at literary journal Wallflowers. Her work has been published in several online and print publications including The Straits Times.
Clara Fong
Getting Your Work Out There: Panel of Young Writers, Artists & Translators
Clara Fong is an eleventh grader at Singapore American School and the Director of Social Media for the online magazine Parallel Ink. She joined Parallel Ink to become part of the community of young writers and artists who thrive within the online literary magazine scene. One of her goals as Director of Social Media is to create a friendly and supportive online platform for young writers and artists to connect and grow. She loves art and literature, especially drawing and poetry. Outside PI, Clara is an intern for her school's Communications Department where she works on various social media campaigns and school publications. She hopes to become a lawyer in the future.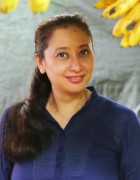 Gamar Binte Abdul Aziz
Redefining Content For Radio and TV: The Challenge of Social Media Integration
Gamar Abdul Aziz is a Senior Lecturer at Singapore Polytechnic teaching writing across media platforms and journalism. She helmed the Diploma in Creative Writing for TV and New Media and managed its curriculum, assessments and industry engagement as well as student and staff development. Before SP, she was a former journalist, correspondent, editor and producer at Channel NewsAsia where she wrote for print, radio, web and TV. She produced stories for news, current affairs and lifestyle programmes. As a volunteer, Gamar continues to write and edit a community magazine. Together with her colleagues and former students, she has just completed an award-winning documentary about the relationships formed at wet markets in Singapore.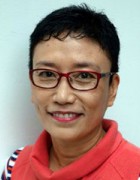 Geraldine Song
The Story Behind the Song: Writing the Lyrics of the Soul
Geraldine is a lecturer with the English Division, and faculty fellow with the University Scholars Programme at Nanyang Technological University. Her creative interest is playwriting and has had her plays staged yearly since 2011. She is currently writing the script for a musical to raise funds for Rainbow Centre at Margaret Drive. She is also writing her latest play "Singapore Also Got Cardenio!" which will be staged in 2016 as part of Harvard University's ongoing experiment in cultural mobility.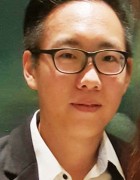 Ignatius Tan
YOUTHspeak: The Future of Writing in Singapore – A Paper Presentation
Ignatius is an aspiring young poet whose work has previously been recognised in the National Poetry Festival 2015, where he was a finalist in their poetry writing competition. He has several pieces scheduled for publication in the anthology The Private Lives of Rollercoasters & Bedsheets which was due for release in late 2015, and is looking to publish his own collection of poetry in the coming months, having completed the first draft of his manuscript. An alumnus of Victoria Junior College, Ignatius will be enrolling into the English Course at Nanyang Technological University in August 2016 to further the pursuit of his literary passions.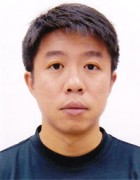 Leong Wee Keat
Retelling Stories as They Are Told: News Events of South East Asia
Leong Wee Keat is a lecturer at Republic Polytechnic's Diploma in Mass Communication Programme. He was a journalist for nine years at MediaCorp's Today newspaper, where he covered two General Elections and a Presidential Election. At Republic Polytechnic, Wee Keat supervises young budding journalists in the Media Lab, which produces the campus newspaper, The Republican Post.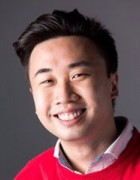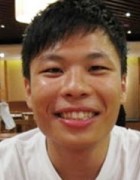 Raymond Tan
The Thrills and Frills of Review Writing
Raymond pursued Theatre Studies at the National University of Singapore. While he likes the intimacy and live interaction the stage offers, it is cinema that stole his heart at a young age. He has been lucky to be able to marry his love for the moving image with his passion for the written word at F*** Movie Magazine, where he regularly contributes film and game reviews, and he has also written for Asian short film portal Viddsee and local film blog SINdie. Besides penning musings on film, he has also written about food and travel for several local and overseas publications, most recently for the gourmet lifestyle magazine Epicure.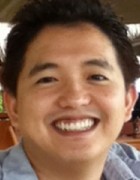 S Mickey Lin
The Business of Writing: Branding You and Your Work
A conversationalist, writer, aspiring polymath and polyglot, Mickey graduated from the USC School of Cinematic Arts and Founder Institute. He has lived in various parts of Asia, including Bangkok, Beijing, Kuala Lumpur, and Taipei. Now, he travels back and forth between Los Angeles and Singapore. He is interested in design, film, games, infographics, international relations, photography, sequential art, traveling, writing, and even better conversations.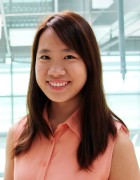 Tan Jun Ya
Keynote – Writing for Progress: Development Journalism in South East Asia
Tan Jun Ya is President of AIESEC Singapore, the local chapter of the world's largest youth-led not-for-profit organisation which provides over 400 leadership experiences for youths. Her responsibilities include strategy development for 4 local offices with over 200 members in areas such as recruitment and youth development; managing national executive team to achieve organisational goals and vision management. She aims to represent the youths of Singapore as part of AIESEC to connect with the local community for greater cross-sector collaboration.